The new contact centre economics: Balancing people and AI
Thanks to the continued growth of automation and AI, over the next five years customer service will be significantly different from what it is today
The traditional contact centre operating model relies on employing enough representatives to handle calls in an efficient manner. This traditional model no longer works. Even with there being 17 million contact centre representatives worldwide today according to a report from Gartner, organizations face staff shortages and labor costs amounting to 95% of their contact centre expenses.1 Contact centres also face pressure from changing customer expectations.
They need to instantly resolve simple issues, provide service over preferred channels all whilst still enabling highquality agent interactions when needed. As such, companies that still view contact centres as merely places where humans resolve customer calls as fast as possible are at a disadvantage against those who understand how the right digital interventions enable interactions that build lasting customer relationships.
Organizations now realize that tapping into technologies such as intelligent voice recognition, conversational AI, and machine learning can improve customer experiences as well as lower costs. This is evident from reports including one published by Straits Research predicting the global contact centre spend on technology will reach $165 billion USD by 2030, registering a CAGR of 21% from 2022–2030.2
Realizing the potential of these digital interventions will require finding the right balance between AI innovations and human representatives. This search for the correct mix between people and technology is upsetting previously held views on the economics of contact centre operations. But the customer contact centres of today will look very different in five year's time: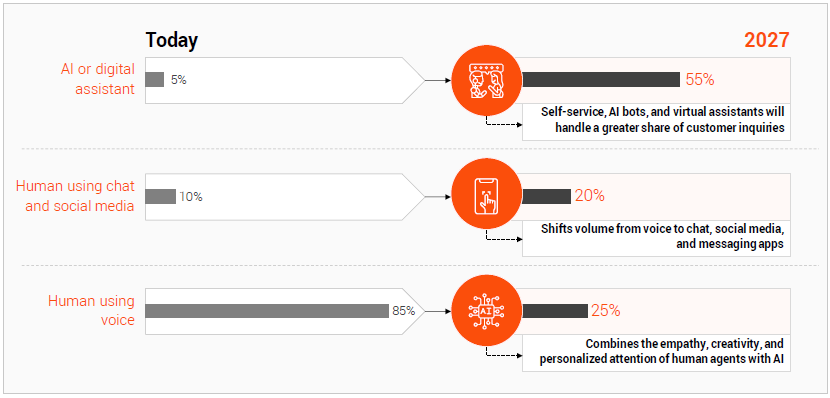 Source:
1. Gartner (Gartner Predicts Conversational AI Will Reduce Contact Centre Agent Labor Costs by $80 Billion in 2026)
2. Straits Research (Contact Centre Software Market to reach USD 165 Billion in (globenewswire.com))
Organizations aiming to benefit from this technology face a complex task. Poorly implemented AI solutions can create inefficiencies that increase workloads and raise expenses, growing the problems they're meant to solve. To avoid these issues, incorporating several strategies into a contact centre transformation journey can enable businesses to adjust their contact centre economics for the future.
Build your channel strategy around customer preferences. Different customers prefer different channels. Digital natives may feel more comfortable using self-service chatbots. Users facing complex issues may prefer speaking with a human representative right away. The foundation of any channel strategy is built on a thorough understanding of customer preferences – an understanding that can't be developed without analyzing customer data.
Let AI augment human understanding. AI can do many things. What it can't do, however, is provide human creativity, empathy, and understanding. The goal of any AI implementation shouldn't be to replace workers, but to let employees focus their time on tasks that only a person can perform well. Letting AI handle routine tasks such as data entry or looking up customer information enables representatives to handle complex, high-value tasks.
Drive actionable insights with data and analytics. Finding the right mix of human and AI operations isn't possible without data-driven analysis. Organizations must constantly collect data on customer interactions, channel usage, and escalations to determine what tasks are best performed by a person or technology. These insights can ensure businesses allocate their resources effectively and efficiently.
Continuously monitor and adjust. The balance between AI and human agents in contact centre operations is never static. New AI use cases arise, customer preferences shift, and opportunities for self-service operations increase. Constantly monitoring and changing operations as needed is possible using data-driven insights.
Incorporate customer feedback into product engineering and design. The best way of resolving customer issues is to prevent a problem from arising in the first place. Contact centres can be a goldmine for insights into the challenges end users face when using a company's product or service. Looping this information back to product engineering and design teams can proactively prevent future end user challenges and the associated customer calls.
Incorporating these perspectives into an organization's plan to balance the human agents and AI technology costs will drive better cost effectiveness, scale human employees' ability for handling larger interaction volumes, and improve legal and regulatory compliance through enhanced information security.
This combination of human creativity and innovative technology behind the new economics of contact centre operations can create a powerful edge in the market.
Written by:
Rahul Arora
SVP, Head of Emerging Business Unit, UK & Europe
Naveen Maheshwary
VP, Emerging Business Unit, UK & Europe