Sustainability, climate & nature business practice
A Data-led digital offering
Climate change is the most defining challenge and crisis of our time, uniting the world toward a sustainable future. Central banks, financial institutions, institutional investors, and regulators are increasingly acknowledging and addressing the financial stability and risk implications of climate change.
94% of FSI CXOs globally have identified sustainability as their strategic priority with over 80% percent of the investment industry committing to the Principles for Responsible Investment, 260 banks globally representing $70 trillion in assets signing onto meet the Principles for Responsible Banking, and 200 insurance signatory companies joining forces signing up to the Principles for Sustainable Insurance commitments.
Achieving the net-zero 2050 commitments requires financial institutions to embed sustainability, climate, and biodiversity into their value chain and decision-making across institutional investors and banks, issuers, market intermediaries, regulators, and stock exchanges.
How EXL's sustainability, climate, & nature business practice can help
At EXL, our Sustainability, Climate, & Nature business practice is uniquely positioned to help FSIs meet these commitments accelerating their journey to net-zero aligning with the rapidly expanding policies, frameworks, and standards which have been evolving globally at an unprecedented pace.
Through our industry-recognised domain expertise, distinguished digital-first data-led approach, and cutting-edge digital and analytics capabilities we are helping transform the way financial institutions, corporates, and organisations operationalise their transition plans, predict and measure risk, and report on and disclose their activities.

Our practice is a value-oriented and purpose-led specialist management consultancy, passionate and dedicated to helping organisations transform and unlock sustainable business value delivered through our distinguished ESG, Climate, and Nature data strategy and management, advisory, engineering, and digital solutions capabilities.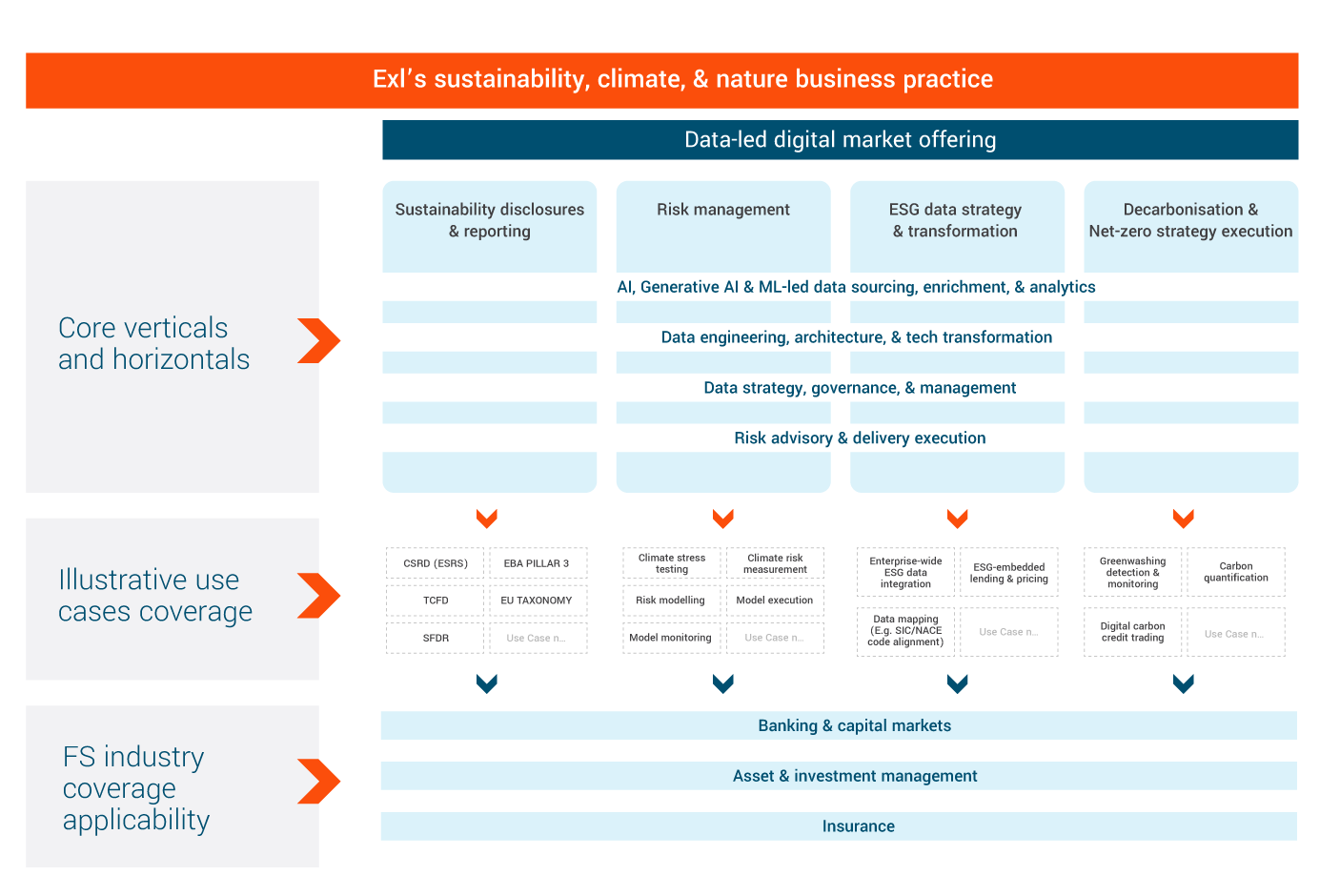 Get in touch today to hear more about how EXL's sustainability, climate, & nature business practice can help
Priyanka Mehta,
Sustainability, Climate & Nature Practice Lead - EMEA & UK,
Financial Services Industry
Alok Rustagi,
Head of Banking and Data Analytics - EMEA & UK,
Financial Services Industry
Kshitij jain,
EMEA & UK FS Industry Lead & Chief Growth Officer,
Financial Services Industry