Data helps utilities company improve customer experience and retention
EXL's client, a large UK energy and home services provider, knew they needed to improve their customer journeys. More than that, they needed to be able to quickly and accurately determine which interventions produced the best customer experience improvements.
Enhancing customer experience by prioritizing improvement initiatives
Challenge
EXL's client, a large UK energy and home services provider, knew they needed to improve their customer journeys. More than that, they needed to be able to quickly and accurately determine which interventions produced the best customer experience improvements.
Customer expectations have dramatically changed. A new generation of customers do not see energy as a commodity, but treat it like any other product. They expect more value, personalized services, and a seamless experience across all channels. At the same time, new, smaller, digital-savvy competitors are entering the market at an unprecedented rate, eroding the market share of once-dominant companies.
In order to stop their market share from declining, the client wanted to revamp their customer journeys to provide personalized, efficient, and engaging customer experience to drive drive customer acquisition, retention, loyalty, and customer lifetime value.
To overcome above challenges, client turned to its longtime partner EXL to build customer journey blueprints in order to orchestrate its customer journey transformation program. This included examining a number of aspects:
Data volume: The number of journeys and customer touchpoints created massive volume of data
Real-time customer insights: The client needed to away from historical customer insights to understand real-time customer behavior
"Better customer experience drives customer loyalty, which leads to higher retention, acquisitions, and upsell and cross-sell opportunities that drive increased revenue growth"
Solution
EXL's extensive customer journey analytics experience enabled the client's transformation program. Using customer journey analytics, the client was able to analyze the customer paths that led to highest dropout rates and identify cost-to serve inefficiencies. This served as a key to unlock the primary customer pain points and prioritize improvement initiatives.
The team created a holistic, integrated approach to create a successful customer journey transformation. The transformation program was divided into six phases:
Phase 1: Customer journey maps
Customer journey maps provide a visual illustration of the steps taken by a customer to complete their journey. Creating detailed journey maps can be extremely time consuming. Using customer journey analytics tools, EXL quickly created macro views of every customer journey, with drill-down capabilities for discovering micro journeys within these macro journeys. Using these maps, client had a view of all the touchpoints customers encountered along with departments responsible for delivering the service.
Phase 2: Voice of the customer
It is crucial to understand customer needs. The EXL team developed text analytics tools to analyze customer interactions, reveal customer sentiments, and map them to customer journey maps. Further techniques used in the process of customer voice discovery included:
Customer call recordings
Net promoter score (NPS)
Effort score
Brand essence
Customer focus groups to understand current experience
After developing a deep understanding of customer perceptions across their journeys, the next step was to overlay operational metrics on the journey maps.
"Real-time customer journey dashboards provided a unique view of customer pain points along with a what-if functionality to understand the impact of improving operational parameters on customer experience."
Phase 3: Operational performance
Journey maps tell the paths taken by customers to complete their journeys. However, without data, businesses cannot identify journey failures and their impact. To track the effectiveness of different customer journeys, EXL leveraged its analytics capabilities to calculate key operational metrics for every customer journey.
For digital journeys, team developed web heat maps, scroll maps, hover maps, and fall-out funnels to identify key digital journey parameters. Comparing actual operational performance with set targets enabled the client to prioritize improvement initiatives.
Phase 4: Effective customer experience factors
In order to prioritize different journey improvement programs, the client needed to understand high-impact customer experience drivers. After identifying these drivers, EXL use them as inputs for advanced NPS simulator models to find out which had the maximum impact on NPS. For example, improving ease of onboarding and product understanding at the time of joining would potentially have maximum impact to improve NPS.
Phase 5: Cost-to-serve metrics
One of the focus areas for the client was improving the value customers receive while maintaining cost efficiency. This meant understanding all possible  measures, which would act as a blueprint for identifying inefficiencies, such as unnecessary contacts and multiple visits to fix an issue drive costs and points out operational inefficiencies. Overlaying the impact of these drivers on cost and customer experience helped the business prioritize their efforts to mitigate these inefficiencies.
Phase 6: Bringing it together
Customer journeys change over time. Rapidly shifting customer behavior meant developing real time dashboards to track customer journey metrics, pain points, operational performance and cost to serve. EXL's visualization platforms helped develop real-time journey maps, which provided the client with self-serve capabilities to drill down through detailed customer journey maps and prioritize their improvement initiatives.
Illustrative journey map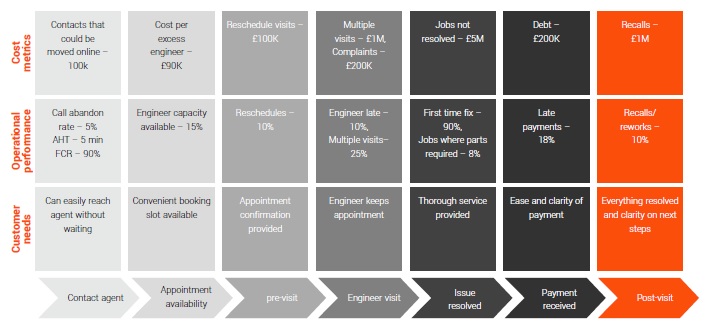 Outcomes
Using EXL's analytics expertise, client was able to successfully transform its end-to-end customer journey and moved away from being product-centric to customer-centric. Key outcomes included:
Overall NPS improvement by 2 points, leading to £3M churn and upsell benefits
£66M cost inefficiencies identified
30% increase in transactions through digital channels
Customer retention increased by 2%