The acceleration imperative: Why companies must prioritize speed
The acceleration imperative: Why companies must prioritize speed

The exponential adoption of digital the past two years has changed the way organizations compete.
Now, every company is attempting to respond urgently to new customer expectations, including more personalized products and services. Leaders are looking to capitalize by moving faster into new business opportunities, while also fending off data-driven disruptors able to solve old problems in new ways.
Today, every company is focused on how data can drive better decision-making and the best way to redesign operating models for the digital world. In the process, leaders are learning that they need to know more about their customers, their markets, and their business than they ever had before, especially if conditions and needs change dramatically
They are learning that if customer touch points are increasingly digital, the companies will be measured by how relevant their offer is, how easy it is to buy, or how quickly the customer can get an answer. That's the playing field in the digital market and how customers will ultimately keep score.
Against that background, market leadership will require more than simply meeting transformation objectives. Winners and losers will be determined by who can accomplish them the fastest. The most powerful differentiator in the market today is speed – the speed at which companies can deliver new products, provide streamlined customer journeys, adjust to changing expectations, and capture value from data, analytics and AI. Speed has moved from being a mark of quality to be synonymous with quality.
Driving speed through the cloud
Most companies simply aren't set up to capitalize on opportunities as quickly as they'd like. Typically, business processes are constrained by legacy technology and depend heavily on manual intervention. Traditionally, companies have needed to approach transformation by redesigning enterprise-wide technology platforms and business processes, which is expensive, time-consuming and has a low success rate.
In contrast, when operations are redesigned in a cloud environment, processes and workflows are more easily configurable and help generate clean data flows unconstrained by legacy processes and technology. Cloud ecosystems also enable companies to rapidly deploy automation, machine learning, and AI.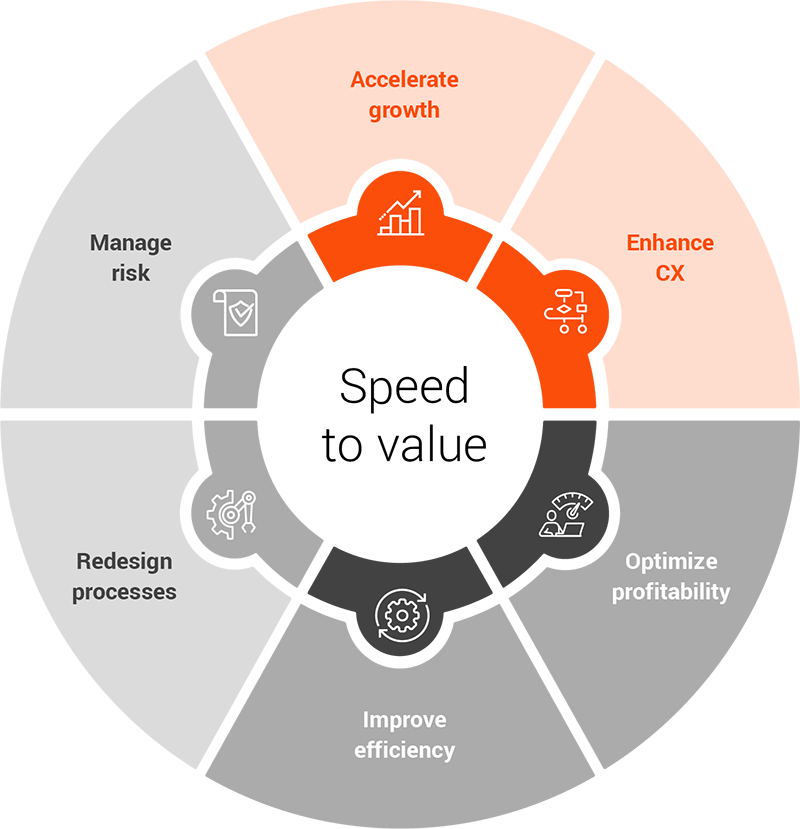 Most companies simply aren't set up to capitalize on opportunities as quickly as they would like.
For example, insurance and financial services industries are able to extract and analyze large volumes of unstructured customer communication data to deliver actionable insights with EXL's content extraction solutions that integrate AI, natural language processing, machine learning and cloud deployment.
We have also designed a cloud-native "receiving center" for a leading title insurance company to automate time-consuming, manual data ingestion processes shared across several vendors. Using a combination of AI, machine learning and advanced analytics, EXL migrated the client workflows to a cloud-based process that automates searches and information gathering.
Catering to the 'Audience of One' – at scale
Delivering a customized, proactive digital experience that plays to a consumer's individual needs is one of the only ways to stand out when comparison shopping is as easy as opening multiple browsers.
In this environment, companies need to have extensive knowledge about their customers and their markets, while having business processes that can act on this information at the speed of AI. Companies need to be aware of the touch points that the customer has with their business, how happy the customers are with the experience, and what unmet needs of the customer is the business solving. This requires a 360-customer view that powers marketing analytics to drive prioritization, hyper-personalization or other benefits. Finally, capabilities like Conversational AI and other solutions can help to deliver a superior, frictionless customer experience across all channels. The real differentiator now is speed: How fast can your business develop an understanding of a customer and share something relevant for the customer to take action?
New healthcare solutions from EXL are tapping into real-world patient data and powerful analytics to drive highly personalized care management programs for leading health plans and self-insured employers. Combing advanced automation, conversational AI and face-to-face engagement with nurse care managers, the new solution tailors the right message to the right patient at the right time.
In another example, we partnered with a healthcare company to improve how they access, standardize and embed data into processes and drive better health outcomes. We enabled the client to identify those most at risk and help people manage their chronic conditions more efficiently. Overcoming this challenge wasn't achieved by having more or better data, but by creating a data-driven business model that could operate at scale.
Driving business forward, together
Optimized customer experience for a leading life insurance company
With cutting-edge analytics, automation and process improvements, including straightthrough processing of transactions, EXL helped our client synergize front and back office operations and improve customer experience:
$6M
in savings
15-20%
increase in efficiency
5-10%
improvement in accuracy
Cut overpayments by millions for a regional health plan
Based on data mining and investigation conducted by EXL, our client was able to identify and correct payment errors:
$3.2M
in annual retrospective payments identified
260K
decrease in monthly overpayments
Multi-
million dollar impact in less than one year
Digitally transformed a UK-based home and energy care provider
EXL's AI-powered digital intelligence platform helped our client break down operating silos and improve data flows for front-office staff, resulting in:
£17M
in early revenue realization
£1.1M
in direct savings per annum
Making sense of data
Modernizing and enriching data, re-architecting data flows, moving to the cloud, and delivering hyper-personalized experiences aren't the end objectives for any company's journey towards speed – they're the beginning. Developing these capabilities sets a business up for ongoing improvements through continuous monitoring.
Re-architecting data flows lets organizations understand which improvements would create the greatest impact for data generation and capture. The new information can be used to enhance the performance of AI and machine learning algorithms, which can create a flywheel effect of ongoing improvements that drive your business forward.
Companies that make sense of their data to get better, and do it faster than their competitors, will be the ones that achieve market dominance. The rest will be left behind.
AI and cloud-infused digital solutions
Written by:
Rohit Kapoor
Vice Chairman and CEO, EXL