The University for AI
"AI is the next electricity. It has the power to change the future of every company".
Introduction
Artificial Intelligence (AI) is the next electricity. It has the power to change the future of every company. Considering AI has been infused into our day-to-day utilities such as phones, cars and homes, there is a need to build a new barometer for today's AI era. In this era, every company is looking for ways to serve its customers with the right products at the right time. To enable seamless AI-driven companies, we need to transform from bespoke builds to industrialized AI factory.
Responsible AI industrialization
While humans are shaped by their upbringing, experiences and culture, there is no such mechanism to impartially update or diversify AI data sets leading to an uninformed AI. Incomplete knowledge, data and assumptions can harm how people live, work and progress through their lives. Therefore, every AI deployment has to include checks, balances and quality controls to mitigate this partial or incomplete knowledge before it impacts output.
The concept behind the University for AI
Just like we attend a university to get a higher level of education, widen our understanding and increase our intellectual ability, similarly AI models (read Artificial Neural Networks) will need to attend the University for AI to learn and become the best in their respective fields where the AI has been assigned instead of methodically following a set of instructions.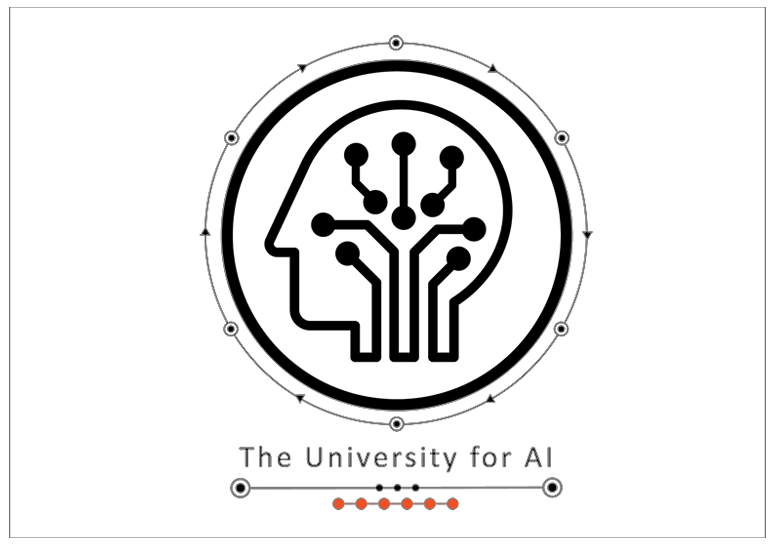 Vision of the University
(what do we want to achieve in the future?)
To build and certify AI models that augment human intelligence and help industry gain traction in AI adoption

Mission of the University
(what are we trying to accomplish?)
To work with the industry as an agile governing body that will certify AI models and algorithms
To recognize and address potential AI bias before it mushrooms into a full-scale liability
To deliver quality output and stimulate creativity across AI community to solve industry problems

Difference between the learning patterns of humans and AI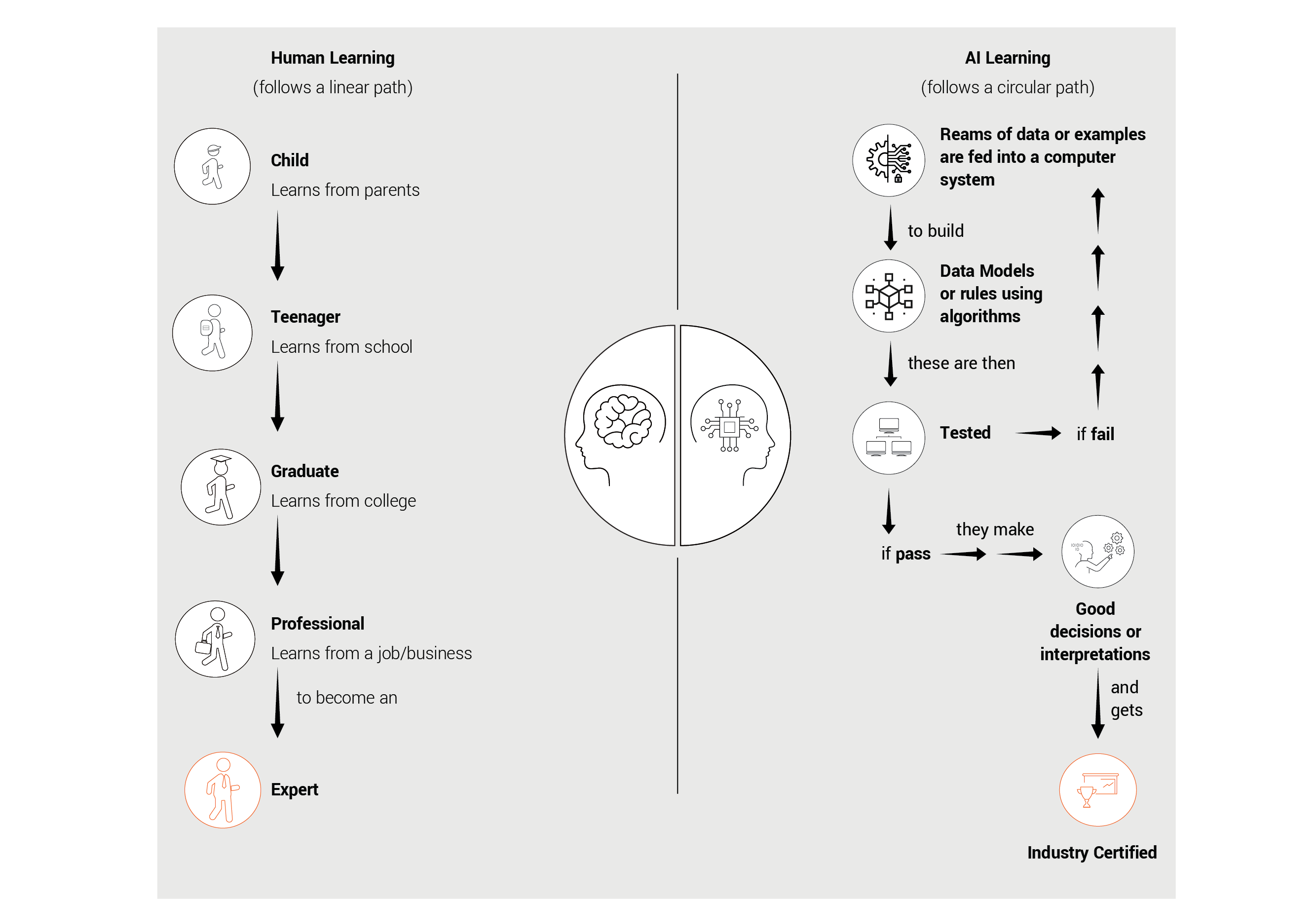 Value statement of the University
(how we will conduct our activities to achieve our vision and mission?)
The University will convert knowledge into a universal language for AI by focusing on I-5 (read Eye-fi):
 
Infrastructure
Position companies for an AI-driven future by helping them establish a clear infrastructure.
Insights
Enable businesses to proactively develop fast and efficient AI algorithms that can process massive volumes of data in real time and generate accurate insights.
Integration
Focus on crafting successful strategies to non-intrusively implement, integrate and deploy AI into the current workflow and with IoT devices.
Intelligence
Provide AI models, frameworks and platforms to build intelligent AI models and virtual assistants that can personalize customer service at scale and offer human-like interactions.
Identification
Train companies' staff to conduct spot audits of AI algorithms and identify potential threats and attacks by defining exceptions and libraries in the AI dictionary.
Why AI learning should be treated differently than human learning?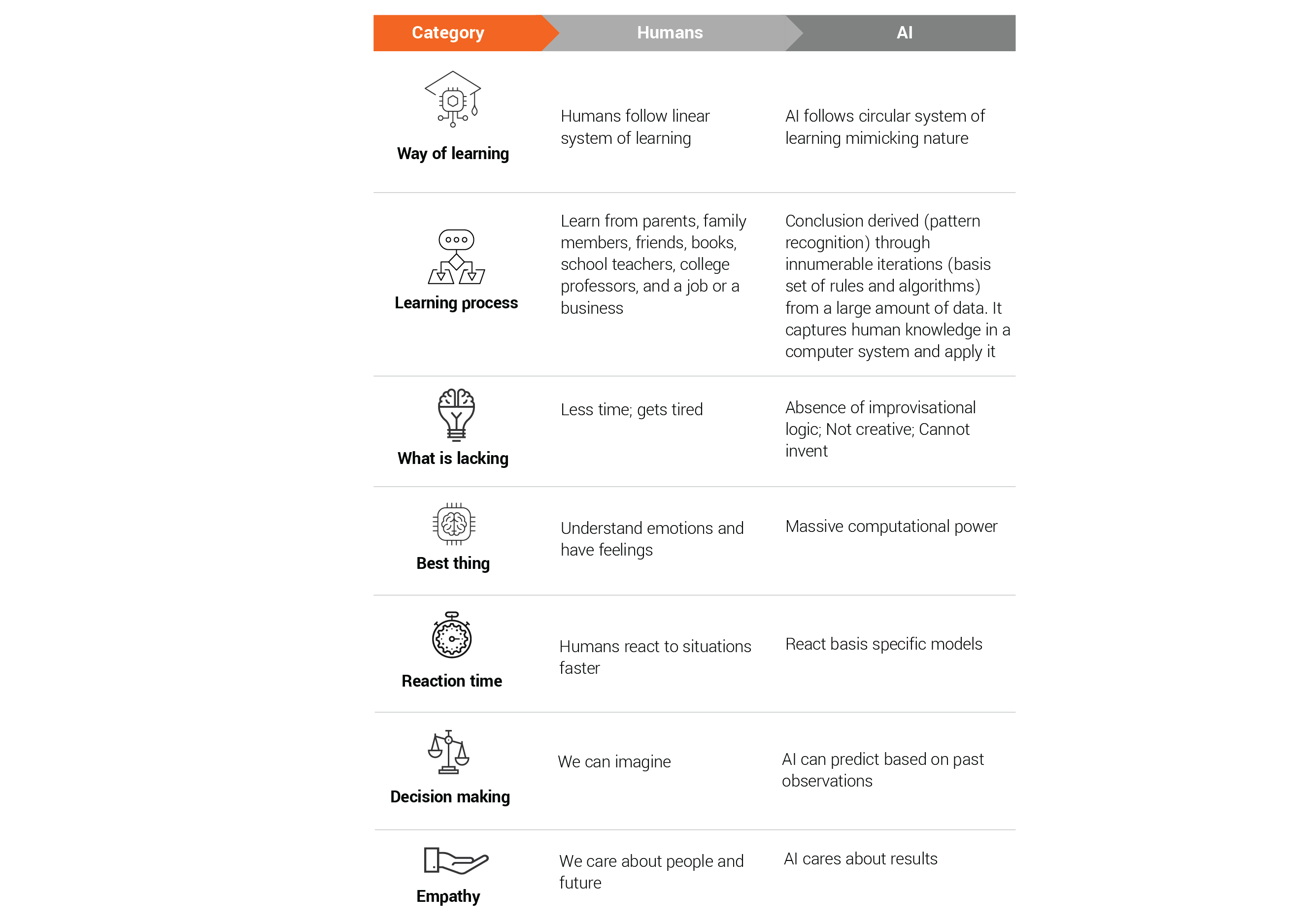 How will the University function?
The University for AI will be a central source of all industrial information pertaining to AI. It will amplify the reach of AI in a leaner, faster and transparent ways across areas such as claims settlement in Insurance, individualized care to patients in Healthcare, risk management in Banking, content personalization in Media & Entertainment, etc. The University will function through CREDIT (Consulting, Research, Execution, Drafting, Intelligence, and Testing) committees.
The committees' distinguished members will report to the respective chairperson who will be accountable to the Vice Chancellor for the performance. The university will have a strong working relationship with leading industrial bodies (such as NASSCOM) and analysts (such as HFS, McKinsey, Deloitte, Forrester, etc.) to gain an unbiased and objective 'out-of-the-box' thinking in addressing complex challenges facing the business world and stay on top of the game. The end user engagement will be handled by an event management team.
Let's look at the roles of different committees:
The University's CREDIT committees
Role of Consulting Committee
The Consulting Committee will assist companies in establishing an enterprise 'AI Center of Excellence'. This involves creating the AI vision, building a technical infrastructure to develop AI models and systems, identifying use cases, creating a data architecture, managing external vendors, and acquiring and building talent.
Role of Research Committee
This committee will initiate research programs at the postgraduate level and will provide guidance in areas such as Machine Learning, Artificial Neural Networks, Robotics, Expert Systems, Fuzzy Logic, and Natural Language Processing.
Role of Execution Committee
The Execution Committee will comprise advanced Machine Learning coders and other AI engineers who will write books related to specific stream of knowledge, codes and algorithms. These people will write industrial data, knowledge libraries and programmed information which will be served as API subscriptions to companies for their AI models to consume.
Role of Drafting Committee
This committee will define industries for which AI needs to learn. The professors of this committee will draft an exhaustive and ethical curriculum, and develop data knowledge banks for all AI aspirants and industrial AI solutions. They will keep refining the curriculum basis inputs received from industry implementation. This committee will also draft high quality, interactive marketing collaterals (such as newsletters, e-magazines, white papers, case studies, infographics, blog posts, etc.) for the University's website to build brand awareness, disseminate research updates and make educational technology fun (through virtual reality based games and stories).
Role of Intelligence Committee
This committee will hold the crucial responsibility of building intelligent AI models that will be capable of developing new AI models. These intelligent or super AI models will follow a series of iterations, keep the best models who clear the AI test (from thousands of AI models) and discard the rest of AI models. Effectively these super AI models will build, teach and test other AI models. So, there will be builder models, teacher models and student models.
Role of Testing Committee
The Testing Committee will test the compliance readiness and identify potential AI bias. It will frame tests, review test data, monitor training process and audit outcomes. It will also certify corporate AI models who clear the test. The stress test will comprise millions of questions and test loop will repeat as many as necessary, which means teacher AI models will teach again and again (reinforcement learning) until the AI models' grade reaches higher and they become robust. A student AI model will graduate from the University to be the algorithm of its domain.
Where will the source of information reside for the University?
Data and information is the backbone of the University and every effort will be made to keep it safe, secure and clean. The University for AI will be using Blockchain technology to build and organize database in a transparent manner and strengthen cybersecurity protocols. There will be country-specific, cloud-based server farms wherein information and knowledge pertaining to a specific country will be retained. The database of knowledge will be clustered and classified at global, industrial and local levels. A comprehensive industrial security protocol for data privacy, protection and global compliance will be followed and implemented in the respective knowledge location, e.g. HIPAA, etc. There will be access management accorded to ranks and levels within and outside the University for AI.
Potential benefits from the University
The University's AI models will be used as levers for growth rather than as barriers to profitability. The intent will be to industrialize and professionalize AI work to avoid cost overruns and make companies more efficient in their AI spend.
Generic Outcomes from AI University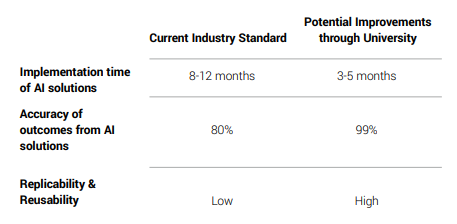 The future
The University for AI will follow an evolutionary journey to harness the power of data and machine learning in driving superior and faster customer service and meaningful business results. It will act as a catalyst to give shape to the AI technology. This will eventually weed out frustration around the lack of controllability and interpretability. It will enable companies to use data more creatively than ever.
Written by:
D G Srinivasan
VP, EXL Transformation and Solutioning




Rupesh Malik
Manager, EXL Digital