Third-party administration
Leveraging digital to transform third-party administration
A successful third-party administration (TPA) partnership realizes your goals of improving operational efficiency, enhancing customer experience and digitizing business functions to drive greater straight-through processing and business insights across the insurance value-chain. The operating model infuses the latest digital technologies and industry best practices to provide the support required to evolve and compete in an ever-changing business environment. EXL has invested heavily in an environment loaded with our own digital IP that leverages the capabilities of our best-in-class partners when required and integrates seamlessly with technology investments that clients have made over the years they may feel are differentiators in the marketplace.
EXL's key strengths that help us stand out in the market include:
More strategic support, helping our clients develop new distribution channels, launch new products, and create new digital business models
Focus on providing an enhanced technology ecosystem, investing in modernizing our platforms where most products are now supported out of the box, moving to the cloud, establishing partnerships with key supporting vendors to round out our solution, and being platform agnostic
Focus on outcomes - our operating models are flexible, and our pricing models are ultra-competitive, bundling the majority of services
Leverage modern conversion methodologies, investing in reducing conversion risks through the greater use of ETL and other automation to reduce manual tasks
Serve in a consulting role to our clients, as a partner with flexible solutions. Our goal is to listen, understand and recommend continuous operational improvements
Focus on digitization and the modernization of customer journeys leveraging our expertise in insurance to create seamless customer journeys for our clients
Global and adaptive delivery and talent model provides a global footprint and optimal locations both on and offshore
Through decades of experience providing leading policyholder services and ongoing investments in digitizing our LifePRO® platform, you can benefit from a future-ready business operation and digital ecosystem. Our functional approach to customer services, automation-led conversion capabilities, and our ecosystem of complementary partnership, ensures a seamless integration process, transition to operations and a positive overall customer experience.
Three flexible TPA models to help you meet your business goals
Solve for the dilemma of cost containment and the challenges of supporting multiple blocks of business, processes and systems, through one of three flexible TPA models.
The first model supports clients that choose to get out of the administration business altogether and cede that responsibility to EXL. The second also supports new business, but it could also be on another vendor's policy administration platform where EXL surrounds it with our comprehensive services. Finally, we are supporting an increasing number of new product launches where speed to market is absolutely critical.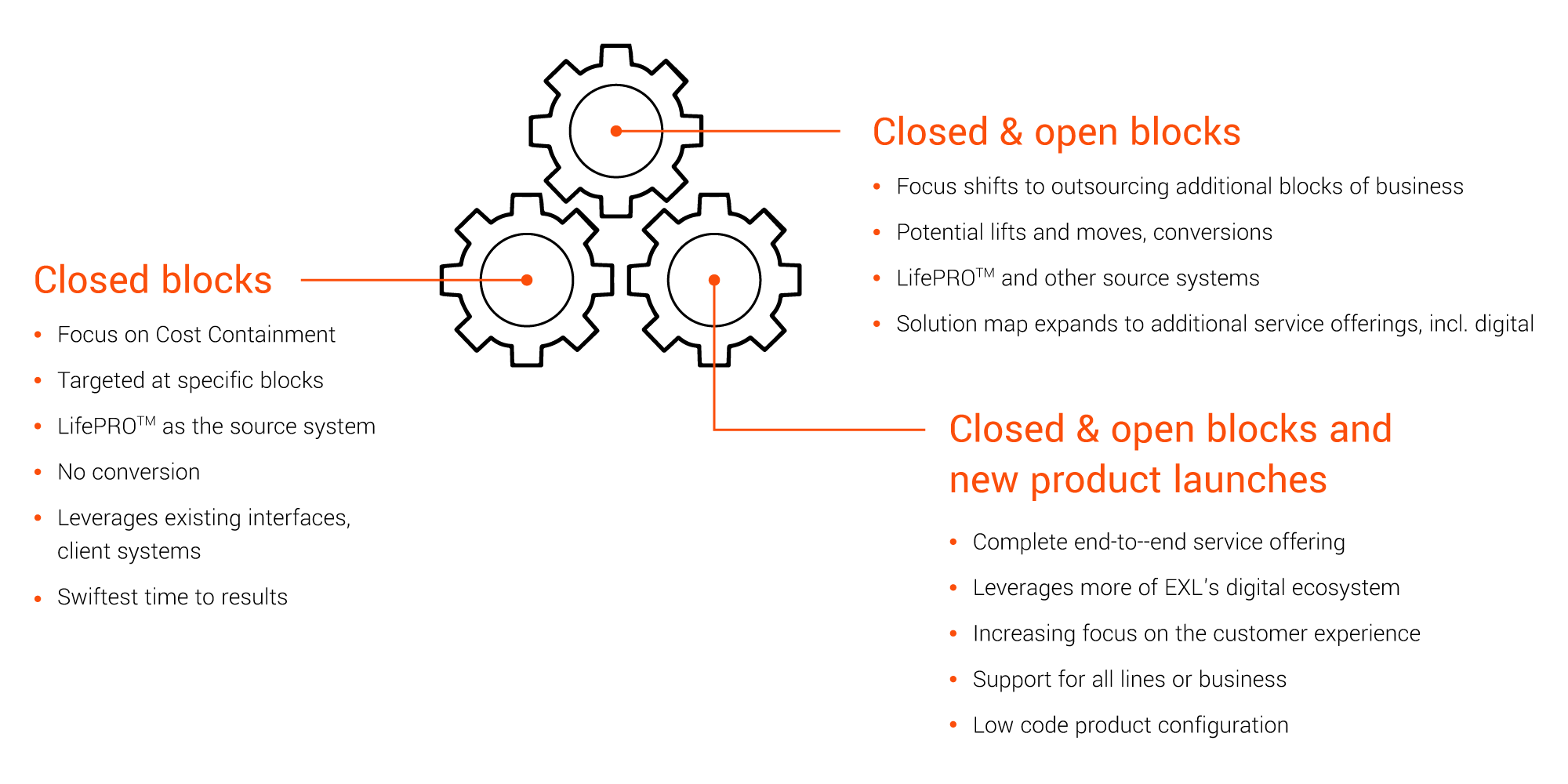 Improve efficiencies and service levels with client-centric, AI-first business model
Drive outcomes like increased self-service from policy application to claims with a fully digitized platform
Lower operating costs via cloud computing and global smart-sourcing framework
Global Delivery Model supports a combination of both on and offshore services from various servicing locations at client direction, optimizing the services provided to their clients.
Gain processing efficiencies with embedded analytics and advanced digital technologies
Improve speed to market for new products
Client testimonial

We were looking to reduce the costs of policy administration while providing stability to our field force as service levels were slipping. It was imperative for us to provide a high quality customer experience through capabilities we could not easily achieve in our current operating model, while maintaining or improving quality and minimizing the disruption of change, both internally and externally. EXL began personalizing the engagement by introducing their various team members who would all have key roles in supporting us. We view our relationship as an extension of our company in a collaborative, transparent and nimble way to help us continuously improve and change as our business evolves.

--Chief Operating Officer, U.S Mutual Insurance Company
Third-party administration insurance solutions