Uniting data and integrated analytics for optimized care management
Amid the continued disruption of the healthcare environment, integrated care management platforms are proving key in reducing costs, improving quality of care, and enhancing the patient experience.
Integrated care is a key focus of next-generation care management programs, relying on clinical, social, and behavioral data to paint a complete picture of a member and pinpoint where care gaps and barriers exist. Care management can be optimized within a platform that unites data and integrated analytics, identifying members who are most impactable and intervenable, and enabling personalized approaches to outreach and care coordination.
The result is being able to engage in the right way with the right members and drive high-value improvements in clinical and financial outcomes. However, transformative outcomes just don't happen; there needs to be a tightly aligned and integrated approach between operational best practices and technology best practices.
Many health insurance providers are still working to understand how next-generation integrated care management platforms can achieve success in a value-based care market. Others understand, but struggle with finding a single platform that integrates the analytics and technologies required to achieve transformational results.
In this white paper, we'll discuss the current state of care management, and how next-generation integrated care management platforms are achieving success in a value-based care market. We'll look at how AI can help clinicians engage in the right way with the right patients, driving high-value improvements in clinical and financial outcomes of care, and how data-driven insights can enable better care management. We'll also look at how digital solutions can drive transformation across case management, prioritizing resources for the greatest impact.
A new value-based care ecosystem
The value-based care market is all about a new care ecosystem, characterized by new models of care delivery that are membercentric and which foster accountability for member outcomes and care effectiveness, as well as new models of payment.
Care management is a key strategy that delivers value with meaningful, strategic intervention, and an integrated, teambased, member-centered approach to care that addresses physical, behavioral and social needs.
There's abundant evidence supporting the results of best-practice care management program outcomes, including the reduction of inpatients and unnecessary ER utilization, improvement in access to evidence-based care, a positive impact on HEDIS/STARS results and improved member and population outcomes (including health, quality of life, satisfaction, to name a few).
In fact, a new study published in the American Journal of Managed Care and published as an article entitled Effective Care Management by Next Generation Accountable Care Organizations found that complex care management is having a significant positive impact on both clinical and financial outcomes in accountable care organizations. The study found that complex care management resulted in a 21% reduction in hospitalizations and a 22% reduction in costs. i
"Best practice care management program outcomes include benefits such as reducing inpatient ER utilization and unnecessary ER utilization, improving access to evidence-based care, improving health equity, and reducing disparities of care. These are all types of outcomes that are going to directly impact population health and value-based care performance. But there's one caveat here which is these transformative outcomes just don't happen: there has to be tightly aligned and well-integrated approaches between operational best practices and technology best practices."
- Mary Beth Newman, Senior Assistant Vice President at EXL Health
One of the top key success factors supporting the new value-based care ecosystem is technology: the integration of advanced analytics, data integration, and reporting is key. New care management platforms are creating a 360-degree member profile to identify medical, behavioral and social needs, using analytics to identify at-risk members who are most willing and able to engage. By incorporating digital innovations to automate manual workflows and tasks, healthcare insurers can deliver automated omnichannel communication to meet member needs and preferences.
Best practices:
Operations and technology: A Critical Interplay in Care Management Best Practice Domains
The close alignment integration between these two domains is essential for true transformative outcomes to be achieved.
Operational
Alignment with professional standards of practice / Individualized personalized motivational approach
Evidence-informed programs and services / Emphasis on SDOH impacts and barriers / Focus on care gap management
Leveraging community resources, providers, and care team to meet member needs
Culture of continuous quality improvement: Population health management framework, ongoing process improvement with system focus, and monitoring and measurement at individual, program, and organizational levels
Technical
Use of advanced analytics, data sharing, and reporting to Identify subpopulations for targeted interventions / Predictive modeling to identify most impactable members / Integration of SDOH data into risk identification / Robust outcomes reporting and analysis
Single integrated care management system platform, including decision enabling dashboards and reporting, and well as integrated analytics to drive actions and program outcomes
Digitize and automate operational processes, including member referral and outreach, assignment and tasking, and quality auditing
Support personalized engagement, including Integrated telehealth, online portals, remote monitoring with individualized data, and comprehensive member apps for smartphones
How AI addresses current trends and market needs
AI, Machine Learning and embedded analytics are helping clinicians engage in the right way with the right patients, driving high-value improvements in clinical and financial outcomes of care. The integration of these technologies is paramount: over the past few years, there has been a rapid industry shift towards interoperability and clinical data integration, which lives hand-in-hand with population management strategies and value-based care reimbursement so helpfully identified by AI.
Digital integration becomes even more critical in value-based care as the landscape becomes more complex. Business models are becoming increasingly complicated due to merger and acquisition activity tightening resource management within healthcare delivery and payer operations. There are a myriad of operational, regulatory, accreditation and compliance issues to deal with, as well as pressure to improve outcomes while lowering costs - not to mention the impact the pandemic has had on utilization, access and workforce.
To help, AI applications are driving actionable insights through data science, and predictive and prescriptive analytics. Through the incorporation of digital technology (including Machine Learning, robotics, voice recognition, and Natural Language Processing) into healthcare operations, we're seeing a hyper-personalization of care services and communications.
At the end of the day, integrated digital solutions are helping to augment decision-making for operational and clinical staff, while reducing the time spent on administrative tasks. It's allowing healthcare professionals to focus on more challenging, interesting and impactful management and clinical work, while building a stronger than ever focus on integrated, community-focused care to address social determinants of health.
"I like to distill it down to this one salient point: it's all about patient experience at the end of the day. The patient is our consumer, the patient is our patient: we care about them. We've got to ensure that they're taken care of. In all things with your digital transformation, and your applications of AI, Machine learning and embedded analytics, that should always be front and center, top of mind. If a patient is the center of our universe, and we take that holistic, analytical view, with the right technologies, we can really unlock that value. What social determinants are problematic? What should we be paying attention to? What didn't we know beforehand? With the right alignment between operations and technology best practices and an integrated care management platform, we can find these answers. "
- Chris Stebbins, Vice President of Digital Transformation, EXL Health
A member centric approach to Drive data and analytic-driven insights for better care management
Many organizations interact with members in a siloed manner across different initiatives. Yet, a true member-centric approach starts with integrating all the information, extracting intelligence from it and putting it in the hands of stakeholders like care managers so they can operate on top of their license.
One of the biggest advantages of having an integrated approach to create a care management system ecosystem is that you can use the power of data, automation and AI not only to focus on the right members with the biggest impact, but also to improve efficiencies. The coupling of analytics around a given patient population is a powerful tool to help understand what programs would be most impactful and most valuable in any particular member situation.
Consider non-machine-readable medical records. Today, digital technologies can take a superset of data from these records and translate that into something readable, creating both an analytics asset and an opportunity for automation. This could be automating gap and care analysis, outreaching requesting data, or automating authorizations to identify membership in different ways so that a clinician can hone in on the details.
This digital experience creates a continuous cycle of collecting information, responding to requests for information and putting that in a package that creates a digital identity for each member. It makes each member part of a digitally enhanced process, where they are engaged, and getting the right solutions, programs and interventions. In transacting data throughout the enterprise in the most efficient way like this, organizations are unlocking the value of analytics and understanding where workflows may become more efficient, and where new opportunities and efficiencies can be found in the automation of processes.
"A centralized approach to care starts with integrating the foundational data and making it interoperable not only within the teams within an organization, but the entire ecosystem that partners work with. This centralized, coordinated approach allows for focus not just on members who are high risk in the near or emerging term, but also members that can be impacted directly and immediately. "
- Smita Sawant, VP of Healthcare Data & Analytics at EXL Heath
How to use digital solutions to drive transformation across care management
What can the future of case management look like in the digital decade? Infusing analytics intelligence will allow care management teams to shift from a reactive approach to care management to a proactive approach. Not only can they address short term or long-term risk, but they can also identify emerging risk cohorts and manage them so that they don't go down the path of becoming high risk.
Integrated care management platforms also go beyond simple analytics. It's one thing to do the analysis to assess who is most at risk, and to perform the interventions that make the most sense. However, it is also important to consider limited resources, time and budget, and how embedded analytics can help organizations to stratify, prioritize and understand next steps from a revenue cycle point of view.
Cognitive AI systems may help with prioritization. With Natural Language Processing capability, these systems can interact with patients, collect information and respond to requests in a near humanlike conversation. Organizations may find that certain populations respond well to an automated outbound text communication that was actually initiated by digital assistants and LP programs. Meanwhile, they may find that there's another subset of the population that is just simply more open and receptive to a human phone call.
These types of identification and differentiation can help to prioritize work. In finding digital solutions for different elements and preferences involved in the case management process, organizations can promote member-centered care by engaging members in ways they prefer. The value achieved is all about efficiently and effectively addressing member needs to improve quality and reduce costs. When this happens, all stakeholders benefit: Providers, Members, and Case Management staff.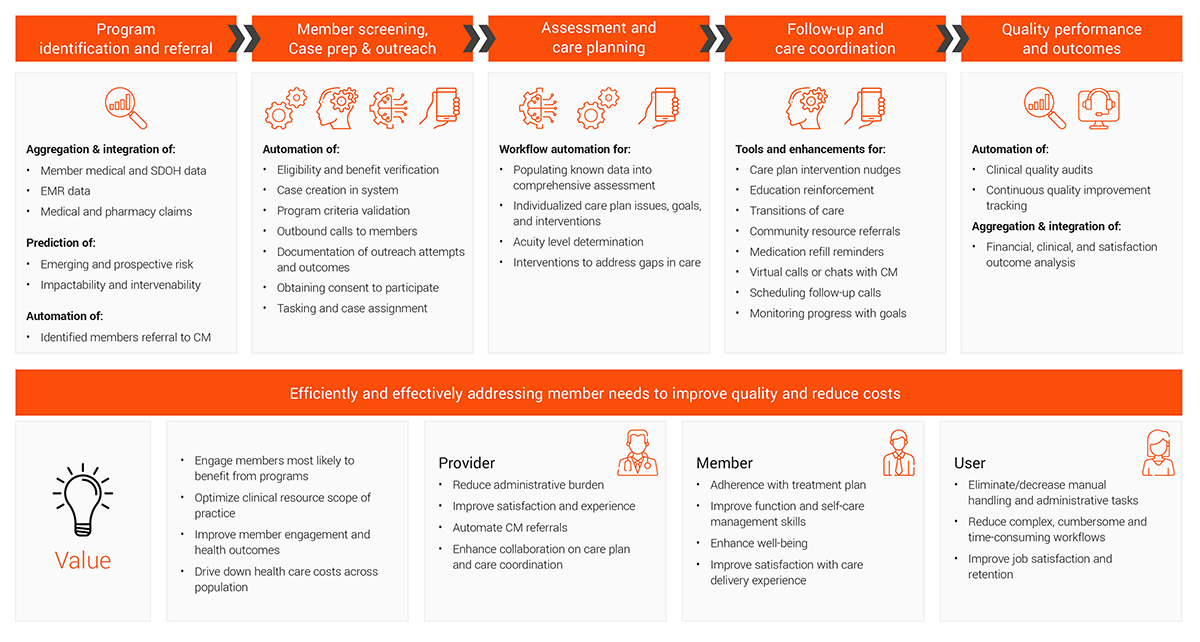 The five main clinical operation components of the end-to-end case management process, and the vision: How digital technology can drive operational effectiveness and efficiency across the various processes.
A population health analytics case study: Addressing emerging risk population with SDOH barriers to reduce clinical risk:
The organization saw an improvement in quality of care while reducing costs through innovative engagement and prioritization programs, using whole person care approach that addresses social and clinical gaps.
17 x identification of emerging risk cohorts, with potential for 17 times cost increase in 3 years
10% increase in engagement rates and intervention completion, through multi-channel engagement and reduced operational cost
16% increase in gap closure rate for identified and stratified members
The Future: A 360 degree integrated platform for intelligent care management cervices
Care management has proven its value in the new healthcare ecosystem, demonstrating that an integrated, team-based and member-centered approach to care that addresses physical, behavioral and social needs is possible. With the integration of technology for advanced analytics, data integration, and reporting, organizations are set to continue recognizing the benefits that nextgeneration care management platforms can bring to the value-based care market.
Leah Schelin
Senior Vice President and General Manager Clinical and Pharmacy Solutions
Chris Stebbins
Vice President, Digital Transformation
Mary Beth Newman, MSN, RN, CMGT-BC, CCM
Senior Assistant Vice President, Clinical Products
Smita Sawant
Vice President, Data and Analytics